NFL Playoffs time, you guys!
It's NFL Wild Card weekend and lots of fun games are on the slate. Let's talk some football!
Saturday games first.
Kansas City Chiefs vs. Houston Texans – 3:35 p.m. Central on ESPN
Alex Smith versus Brian Hoyer? Goodness. It would be interesting to see Alex Smith actually step up in an important game and do better than mediocre. Probably harsh, but Smith is playing a Texans defense led by J.J. Watt.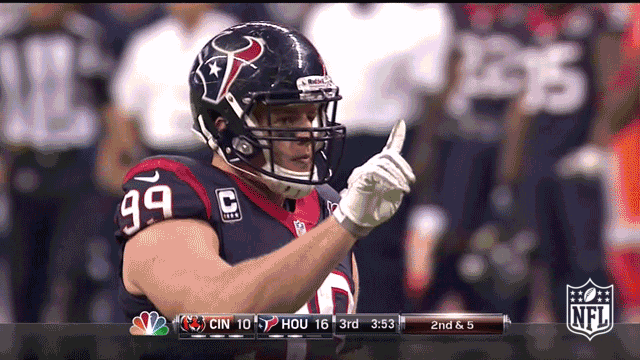 And if DeAndre Hopkins get the ball, forget about it! He's had 11 TDs this season. He's been amazing and I see that continuing in this wild card match-up in Houston.
Pittsburgh Steelers vs. Cincinnati Bengals 7:15 p.m. Central on CBS
Pittsburgh will be without running back DeAngelo Williams. But, I think they will be fine as long as Ben Roethlisberger connects with his other targets… Ok, Antonio Brown.
The Bengals will be playing without QB Andy Dalton. They are going with A.J. McCarron.
Yeah, I don't know. The Bengals had been doing so well this season. Without Dalton, a win seems daunting. If McCarron steps up and hooks up with A.J. Green, Tyler Eifert, et. al., Bengals fans may have nothing to worry about.
Either way, this game should be entertaining.
Let's move on to the Sunday games.
Seattle Seahawks vs. Minnesota Vikings 12:05 p.m. Central on NBC
This game should be fun! Sure, it's not going to be Adrian Peterson vs. Marshawn Lynch. That's disappointing. But Teddy Bridgewater against Russell Wilson? Two of the hot young quarterbacks in the NFL going head to head? I love it!
The Vikings have been on fire lately. They could very well shock the world and move on in the playoffs. But. Wilson and the Seahawks have been in the Super Bowl the last couple of years. They have done well this season. And Wilson just seems to kick it into high gear once the postseason comes. Experience does matter. But being on fire at the right moment matter too.
This game should be great. The only bad spot is that it's being broadcast on NBC and you have to listen to Cris Collinsworth. I, for one, can totally do without Cris Collinsworth. He is the worst. THE WORST!
Green Bay Packers vs. Washington D.C.'s NFL Team 3:40 p.m. Central on Fox
This game has all the makings of an upset that shouldn't really be considered an upset. Washington is 9-7 while the Pack is 10-6. But. The Packers have not played well the past few weeks and Washington has played shockingly amazing.
So, I am pretty excited about the Sunday set of games! Should be awesome!
Which games are you looking forward to? Thoughts on Cris Collinsworth?