The 2015 MLB season is over. Sad.
Much congratulations are in order for the Kansas City Royals.
But seriously, they did earn this championship. They are a young team with a lot of talent. They did their thing. Good on them.
So. Here's just a few points on the 2015 World Series.
What happened to Daniel Murphy?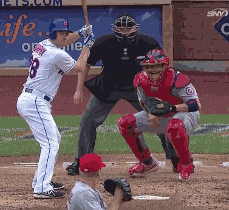 Pretty much, right?  He went from possibly getting a $75 million contract this off season after the NLCS to lucky to get a contract after the World Series. I was pretty disappointed. I was hoping his good streak would continue through the series.
He had seven homers, 16 hits and 11 runs against the LA Dodgers and Chicago Cubs, in the NLDS and NLCS. But could only scratch out three hits, five walks and seven strikeouts against the Kansas City Royals. Oh and he got a lot of Bill Buckner comparisons for his fielding efforts during the series.
Yeah. It should be interesting to see what happens with him this offseason.
The New York Mets will be OK
With David Wright still the captain, the Mets have a plethora of youth, an amazing pitching staff and lot of potential. While Yoenis Cespedes will probably not be back next season, they still have a lot of talent. Matt Harvey will have the offseason to rest up that arm and shake off that final inning. They have Jacob deGrom and Noah Syndergaard. Aren't you excited to see what hair those two will have at Spring Training! I kid!  They will continue to compete hard against the Washington Nationals, Atlanta Braves, Philadelphia Phillies and Miami Marlins in the NL East.
So will the Kansas City Royals
With a core that includes Lorenzo Cain, Salvador Perez, Eric Hosmer, Alex Gordon and Mike Moustakas, they have the talent in the field and at the plate. They have been playing together for years in the minors and are now putting it all together and winning.
… I have a lot of questions regarding their pitching staff … but hey! Also, the Detroit Tigers, Minnesota Twins, Chicago White Sox and Cleveland Indians could be actual contenders.
Yeah, ok! I'll be honest. Not a Kansas City Royals fan. But. They had a really great season and were hot in the postseason. So. There!
Finally: Welcome!
Yes, I'm up to this sports blogging thing again. I love it. Talking about sports and sharing my opinions with you lovely folks. For those of you that don't know, I am a huge St. Louis Cardinals baseball fan. I have loved them since I was a little girl. I also enjoy watching NFL – I like several players and a couple of different teams; Memphis Grizzles basketball and St. Louis Blues hockey.  Arkansas State University is the school I received two degrees from and I love their sports teams. I grew up a Memphis Tigers fan but mostly enjoy their basketball team.
You should also know that I have a deep love of fantasy sports. It may even be an addiction. Pbbbth!
I've written for Aerys Sports – the first all female run sports blogging network; and Fansided on their St. Louis Cardinals site, as well as their Netflix site.
So that's me. I look forward to sharing more of my sports thoughts with you and enjoy hearing from you!